Two Baltimore County Republicans have released a video they say is an attempt to bring some truth in advertising to Maryland state government.
"That's what Annapolis really needs — fact checking," Del. Susan L.M. Aumann said in a video with Del. Kathy Szeliga.
In a campy video posted Sunday on YouTube, the pair discuss Democratic claims about the state budget, the gas tax and the state health benefit exchange website.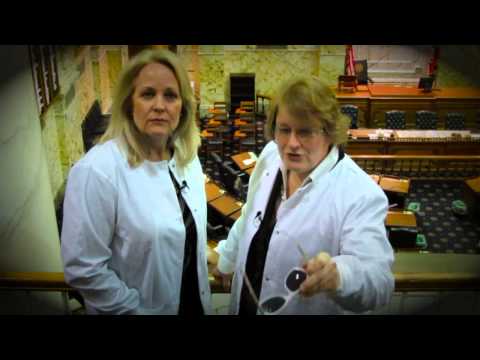 So how do the "fact checkers" stand up to outside scrutiny of their own statements? Here's what they said, and what we found.
Claim: "It's been reported that there are more than $9 billion in historic cuts made to our state budget." The delegates go on to state that the budget has "grown by almost $1 billion a year. That's almost $10 billion in eight years."
Fact Check: Budgets introduced by Gov. Martin J. O'Malley have increased from $28.7 billion in 2007 to the proposed $37.3 billion spending plan for fiscal 2015 — an increase of about $8.6 billion or nearly 30 percent over his two terms in office.
Despite those increases, O'Malley has said on many occasions in the last few months that the budget has been cut by $9.1 million during his nearly eight years in office including during his Jan. 15 budget briefing [subscriber access] and his Jan. 23 State of the State address.
During that same budget briefing with the press corps, O'Malley also acknowledged that "a lot of these cuts were cuts to spending growth but a lot of that growth we intended." The cuts came both through administrative reductions to the budget and cuts made by the Board of Public Works.
Conclusion: The difference of opinion between O'Malley and the Republicans is based largely on the attempt of the governor to spin $9.1 billion in reductions to expected spending as actual cuts that resulted in a smaller budget now than when he took office. In fact, the budget has grown by nearly $1 billion a year since O'Malley was sworn in — a statement made by Aumann and Szeliga. This statement, based on previous published reports and information and statements provided by O'Malley, is accurate.
Claim: The two delegates claim that the legislature in 2013 passed "the largest gas tax in Maryland history" and that officials [presumably O'Malley] "said it would fix our roads and highways" but that the money will now go to "two big new mass transit centers." Finally, Aumann and Szeliga claim legislators want to pass a "new tax" that authorizes local governments to impose their own taxes to fix roads.
Fact Check: Maryland imposed its first gas tax of 1 cent, in 1922. Since then, there have been 11 additional increases including the 2013 legislation. Prior to 2013, the largest single increase was 5 cents both in 1987 and 1992, according to the Office of the Maryland Comptroller.
In 2013, the legislature passed a bill phasing in as much as a 20 cent increase by 2016. The first increase, a bump of 3.8 cents, went into effect last July. Following the final phase-in, the state gas tax will increase automatically based on the rate of inflation. The tax is expected to generate $4.4 billion in revenue over the first six years.
O'Malley sold the tax publicly in 2012 and 2013 as a way to pay for needed fixes to roads and bridges. Since enacting that tax, O'Malley has announced millions of dollars in roads and bridge projects but state aid to local and municipal governments remains at just 5 percent of what it was in 2008.
"None of us wants to look back some day as bridges start collapsing and closing in our own state and tell our kids that we could have done something but we chose instead to simply kick the can down the road," O'Malley told The Washington Post in 2012. "Yes, we're all against taxes, but we pay for that, too."
But the state also plans on using that money to build the nearly $2.2 billion Purple Line project in Bethesda and the $2.6 billion Red Line in Baltimore.
In order to help local and municipal governments, Sen. Richard S. Madaleno Jr. has proposed a bill that would allow counties and incorporated municipalities to add up to $40 every two years [subscriber access] to the state's vehicle registration fee. This bill incorporates one of the findings of a task force created to examine possible ways to finance local transportation projects. The additional fee does not currently exist and local governments and municipalities would not be required to adopt it if the bill is passed into law.
Conclusion: These statements are substantially accurate, based on reporting, statements by O'Malley and information from other government agencies.
Claim: "80,000 people were canceled by Blue Cross Blue Shield."
Fact Check: Last fall, nine insurance companies, lead by CareFirst of Maryland [a division of Blue Cross Blue Shield] announced they had sent more than 73,000 cancellation notices [subscriber access] to Maryland residents. Lt. Gov. Anthony Brown later referred to it as "letters of non-renewal."
Conclusion: The delegates inflate the number of cancellations by about 10 percent over previously reported figures but this claim is substantially accurate.
Claim: "This website has cost taxpayers over $238 million so far."
Fact Check: The website is expected to cost $261 million by the end of fiscal 2015, according to spending estimates [subscriber access] provided by the Maryland Health Benefit Exchange to a joint legislative oversight committee.
Conclusion: The estimate used by the delegates is lower than reported last week by state officials and includes money expected to be spent by the end of June 2015 but the claim is substantially accurate.
Claim: "Only 30,000 people have been able to to sign up through the Maryland Health Exchange."
Fact Check: As of Feb. 14, 29,059 state residents have signed up for a private health plan through the state's troubled insurance exchange website, according to the Maryland Health Benefit Exchange.
Conclusion: The delegates round more than 29,000 people up to 30,000 people but the statement is substantially accurate.
Claim: "Almost all of them already had health insurance."
Fact Check: The statement is unclear but appears to be related to the number of people who registered for private insurance. During a Feb. 10 briefing of a joint legislative oversight committee, state Health Secretary Dr. Joshua M. Sharfstein was asked about the number of  people who may have already had private insurance when they signed up through the state website
"We don't know the answer to that," Sharfstein said.
Sharfstein did say at the time that about 95,000 of the 140,000 insured through Medicaid already had some form of insurance though he called it "inadequate."
Conclussion:  The delegates' statements are misleading and no source is cited. State officials have said they have not been able to track who had private insurance at the time they signed up through the state website. This statement is inaccurate.
Claim: "Did you know that the health director of the Maryland health exchange got one, two, three, four raises before she quit?"
Fact Check: This statement refers to former Maryland Health Benefit Exchange Executive Director Rebecca Pearce who resigned late last year amid questions about the operation of the ailing website. The Baltimore Sun reported that Pearce was hired at a salary of $175,000 and later received five salary increases totaling $24,511.
Conclusion: The delegates are off by one raise but the statement is substantially accurate.