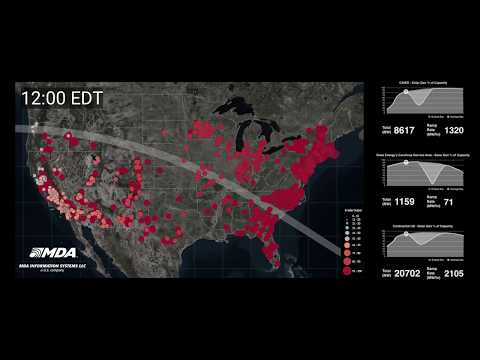 The path of the expected Aug. 21 total solar eclipse isn't due to come near Maryland, which will see only a partial eclipse.
It's obvious that when less sunlight hits the earth, less solar energy can be harvested. For people or companies who need a bit more detail about how much less solar electricity they will produce, and when (or, who just like looking at animated data visualizations), a video by a Gaithersburg weather service's video may be of interest.
MDA Information Systems LLC's MDA Weather Services unit has produced an animation that models the impacts of the upcoming eclipse on solar electricity generation potential in the United States. In the animation, red and blue colored circles represent solar farms. Small blue dots represent farms highly impacted by the total eclipse; larger red circles show farms not being significantly impacted.
MDA predicts major impacts on solar power generation as the eclipse moves eastward across the country:
Impacts will begin along the West Coast as early as 12:00 EDT (09:00 PDT) and will subside entirely along the East Coast around 16:00 EDT (13:00 PDT). Nationally, solar generation potential will decrease to less than 50% of capacity around 13:40 EDT (10:40 PDT) as a result of the total eclipse as shown in the graphic below. This represents a reduction of >11000MW of renewable energy supply for over 20 minutes. Based on percentage of capacity, the impact will be even greater in the Duke Energy's Carolinas service area, where the potential solar generation will drop from greater than 90% at 13:15 EDT (10:15 PDT) to just 8% at 14:45 EDT (11:45 PDT).
MDA also produced a bunch of charts and graphs about the eclipse. The company also offers other solar generation forecasts.